OK, I have a confession. This is Pt. 1 of DONE (much like I have documents at work that are final, final-final, final3, etc) because there are a few other things I need to do to the house before it's
really
done, but it's done enough for now. Some things it needs are grass. And fruit in the tree. And greenery in the planter boxes. But right now Lincoln's young enough that he could care less, so I'm putting the finishing touches on hold for right now. I'm burned out on felt, and I have several other projects I'm itching to start.
So, let's take a little tour. Starting with the front, I decided to simplify and not try to
put a window on the front
. But I did think it looked kind of plain, so I added a planter on the "front porch." One of these days, it will be abloom with greenery.
Also, I'm still working on the doorknob. For those interested, it involves felt, hot glue, hand stitching (which I hate), a washer, a blank button back, and the cap from a can of spray adhesive. That's all I'll say for now. ;)
Moving to the left side, it's fairly plain. It has a window with an empty planter box, and a chimney. The cool thing (to me) about this chimney is that some of the
bricks are velcroed on
, so Lincoln can be a brick-mason like this great-uncle when he's in the mood. :) Also, notice that it sticks up past the "roof." You can kind of see in the picture of the front that it's visible from all sides. :)
The right side has another window (with empty window box) and one side of the tree. It's tough to see the detail from here, but I
free-motion quilted the greenery
on the tree, and I'm really pleased with the effect close-up. This side will be a lot more exciting with fruit, grass, and maybe some flowers.
Finally, the back. It has the other side of the tree, a "sliding glass door," light fixture, and the awesome hose I
blogged about earlier
. Notice though that I added the knob where he can "turn the water on and off."
So that's my house! It took a little while (but not
too
long) for Lincoln to decide he loved it. I'm not sure if there
is
a better reward than a grin like this:
I'll be linking to the parties on the left.
**Edited to add that I'm also linking to: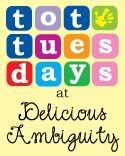 Whatever Goes Wednesday
@
Someday Crafts